BSCOSO Summer Talents 2022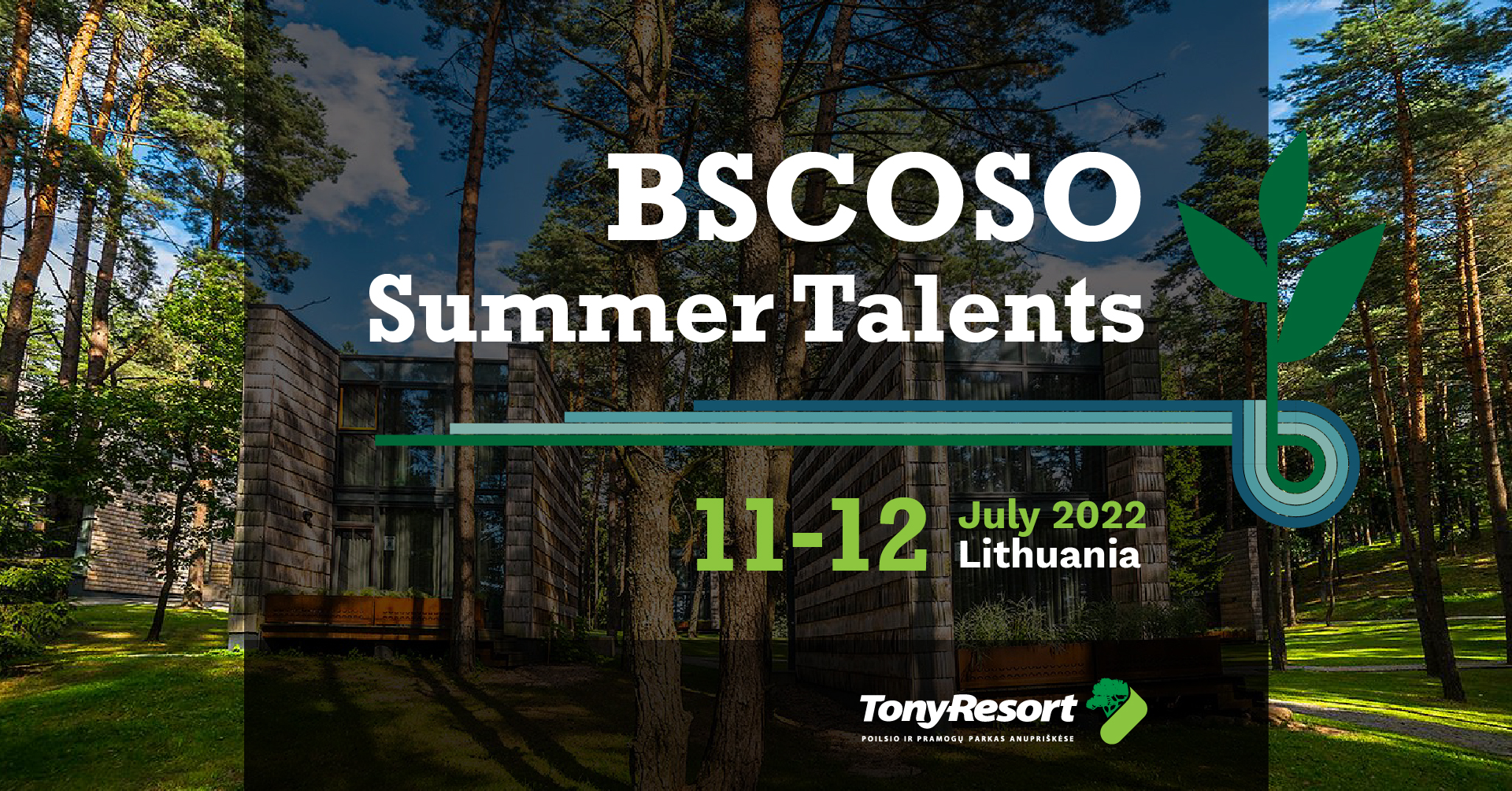 Full photo gallery is available HERE. 
BSCOSO invites you for a short summer break outside the city!
BSCOSO Summer Talents 2022 is a brand-new event for our community organized as an extension of the Shape It Up'22 Course!
Our summer event will take place on 11-12 July 2022 at the beautiful location in Trakai district  – "TonyResort". You are welcome to join this event either for learning or having fun, or both! The idea of the BSCOSO Summer Talents is to gather students, PhD students, residents, young doctors in their early career and to provide them with the opportunity to present their best cases and results. Candidates for the best-case presentation will be selected by our international board members and awarded with valuable prizes by our sponsors. This will be an international arena for the young talents to meet world-class experts in their relevant fields.
What is it for and what will you gain from it?
It's a platform to exchange ideas for young and seasoned generation in the area of orthodontics and related multidisciplinary sciences!
It's a scene for young talents and accomplished experts to exchange their offerings. While young talents will learn to become professionals, the accomplished experts will gain insights into the fresh ideas of the upcoming generation.
If you are a student, a PhD student, a resident or young doctor within 5-year practice after graduation, you can:
Participate in a professional contest
Present and pitch your cases
Get insights from the international committee
Meet and learn from the recognized experts
Get a guidance from your chosen mentor
Get a rest in the Lithuanian nature, enjoy the company of BSCOSO community and summer activities offered by BSCOSO team.
If you are an accomplished expert, we invite you to join BSOCOS Talents to:
Meet new upcoming talents
Discuss fresh ideas of other experts and younger generation
Learn with and from your colleagues
Get a rest in the Lithuanian nature, enjoy the company of BSCOSO community and summer activities offered by BSCOSO team.
Support for Ukraine
BSCOSO will be offering 20 complimentary tickets for young doctors from Ukraine. Each participant will be also able to donate a ticket or two for his or her Ukrainian colleague. We all wish for a better future and career opportunities to specialists from Ukraine.
In addition to the scientific and academic part, there will be a variety of social summer activities and entertainment offered for all attendees.
Be prepared for the best summertime with BSCOSO!