REGISTRATION
Online registration is CLOSED. You are welcome to register onsite. Please check the opening hours of the Registration Desk onsite HERE.
Registration fees (in Euro, VAT 0% included*)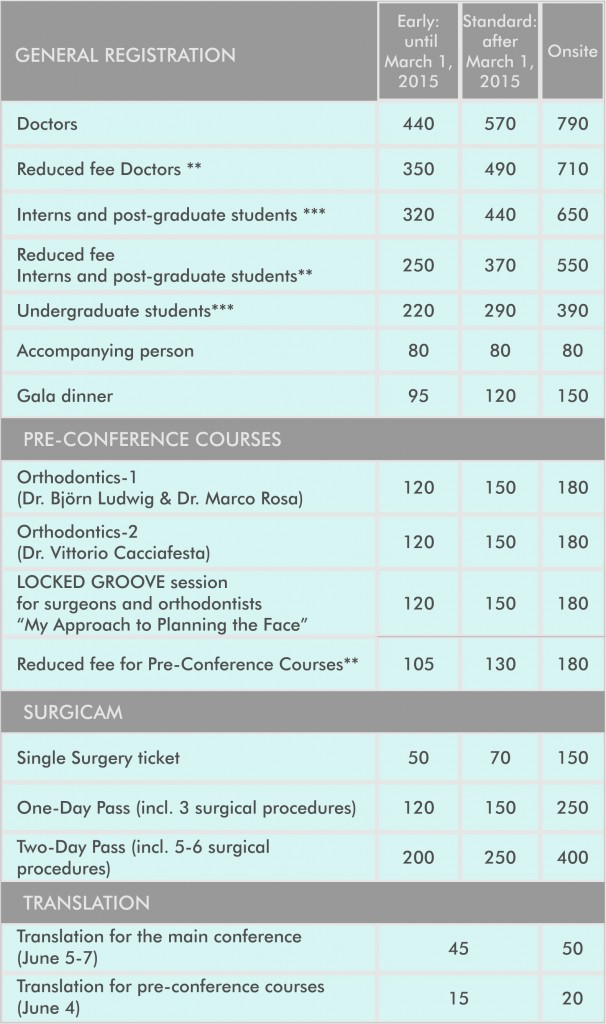 * For non VAT Payers – Registration fees are not subject to VAT in Lithuania according to Lithuanian VAT Law Article No. 13, Part No. 9. For VAT Payers – "Reverse taxation" is applied according to Lithuanian VAT Law Article No. 80. Applicable VAT=0%
** Reduced fee is applied for the delegates from the countries, listed HERE.
*** Students will be required to provide a proof of student status (e.g. student ID card) in person at the conference registration desk.

MORE INFORMATION:
What's in it for learning?
What's in it for having fun?
What's in it for your accompanying person?
Pre-Conference Courses
SurgiCam – the Surgical Week for those who Seek, Learn and Can
Early-bird Registration Discount
On-site Registration
Payment Information
When your registration is confirmed?
Invoices
Registration cancellation terms and conditions
Cancellation and refund policy
Translation
Invitation letter
More than 40 hours of rare knowledge with a focus:
60% – orthodontics, 20% – TMJ management,
20% – orthognathic surgery
Leading speakers from 5 continents who are hard to meet in one place
Top surgeons speaking to and for orthodontists
Lectures that are exclusive in the region and won't be repeated soon
Commercial exhibition with brand new products in orthodontics and surgery
All what you may need for having a successful networking during the Conference (Participant Kit)
Conference abstracts published in "Baltic Dental and Maxillofacial Journal"
Stay awake with 24hours online video streaming on BSCOSO website
And much more than this…experience onsite!
Meet colleagues and make contacts during refreshing coffee breaks and lunches
Relax and enjoy the Opening Ceremony
Chill out at the Welcome Reception & Midnight Jam session
Join our exceptional Gala evening
Be prepared for small unexpected surprises onsite!
What's in it for your accompanying person?
Once you have made all the trip to Riga, as an accompanying person, certainly, you might love to experience the event and what professionals are networking about. Thus you are welcome to join a bit of "LEARN" and much more of "FUN" part of the conference! Take a tour at the Commercial Exhibition, relax with a nice company during coffee breaks and lunches, enjoy networking and socializing at the Opening Ceremony, Welcome Reception and Jam session. Should you like the atmosphere and decide to stay – your are welcome to register for additional optional events, such as the Gala dinner.
More information about pre-conference courses is available HERE. Please note, that the Pre-Conference Course: Orthodontics 1 is booked out already. You can still register for the waiting list by writing us an email at join@bscoso.com. 
The fact that operating room doors must be closed is only half of the truth. Open doors and visits are the chance for professionals to meet, exchange and move the surgery forward. SurgiCam is the only open door week when leading orthognathic surgeons from around the world meet in the same operating room. And you are welcome to join them.
For several days in a row, distinguished orthognathic surgeons will perform surgeries that will be broadcasted for BSCOSO Surgicam participants. The attendees of this exclusive event will also have a chance to discuss the approaches and techniques right after the surgeries.
More information about SurgiCam is available HERE
Early-bird Registration Discount
Don't miss out! Register early and enjoy the best savings. The deadline for Early-bird registration is March 1, 2015. Registration forms, including complete payment information, must be received by the respective date to qualify for the Early-bird registration discount.
For payments onsite, higher registration fees will be applied regardless of when the registration form was received. In order to ensure smooth registration process and to avoid queues we recommend to settle your registration payment before the Conference.
Acceptable forms of payment include:
Credit Card payments.
Credit card payments are available during the online registration.
Bank Transfer.
Payments by bank transfer are made to the following bank account:
Recipient: JSC "Reface"
Company code: 303235572
VAT code: LT100008834517
Address: Žvirgždyno str. 1, Vilnius LT-01205, Lithuania
Bank account/IBAN: LT46 7044 0600 0794 8323
AB SEB bank, bank code: 70440
SWIFT: CBVILT2X
Please make sure you indicated your full name, Conference short name "BSCOSO 2015" and invoice number on the bank transfer. All bank fees must be paid by the participant.
When your registration is confirmed?
The registration will be automatically confirmed by e-mail after we receive the payment. Those, who do not receive a confirmation notice before the Conference, are strongly recommended to contact Conference Secretariat by email at join@bscoso.com.
An automatic invoice will be sent after your registration. Please provide correct invoicing details during the registration online for issuing an invoice. If you would like an invoice to be issued to your institution/company, please also provide a VAT number if the company is a VAT payer. It is important for our accountancy administration.
Registration cancellation terms and conditions
All cancellations and/or changes in registration must be made in written to the Secretariat at join@bscoso.com.
Cancellation and refund policy:
– if cancellation is received by March 1, 2015 – a full refund deducted with administrative fee of EUR 50 will be made;
– if cancellation is received from March 1, 2015 to April 1, 2015 – the 50% refund will only be allowed in exceptional circumstances;
– if cancellation is received after April 1, 2015 – no refund will be made;
– there will be no refunds for no-shows.
Translation to Russian language will be provided for the main conference and pre-conference courses. Please check the registration table above for prices. Please note, that translation is not divided into separate dates or courses, therefore you can either book translation for all days of the main conference (June 5-7) and/or pre-conference courses (June 4 – full day). Registration and payment for translation can be done via registration online. The deposit for translation equipment will be required onsite.
Meet our Conference translators HERE.
If you require invitation letter for visa, please contact BSCOSO 2015 Secretariat at join@bscoso.com.
Registration online Guide for Russian speaking participants is available HERE.